When I was a kiddie, "Friday the 13th: The series" frightened me so much, that I had to give it a try nowadays. This intro in my humble opinion is one of the best ever made for a TV series.
Speaking of nice details (which the series has a lot):
When you find it… you're gonna feel some bricks on that chair you're currently sitting on
I thought this was a urban legend but…
Yes, it is, Jason Voorhees's Mask! (From the original Friday the 13th movies)  -Again, dear husband, you were right-
If you couldn't spot it at first image
And I found a new fave character to add to my list: Jack Marshak (Although Ryan is a cool geek and Mikki is OK), he's  the Jack (no pun intended) of All trades, the White Magician… He's soo awesome!!!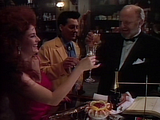 Here they are: Mikki, Ryan and Jack having a well deserved toast after several successfull cursed items hunts.
Since I rule this House, I post these cuz I can and want to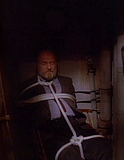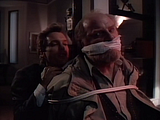 Again, back on track (LOL) I've seen so far 1st season and it wasn't mindblowing, but I enjoyed it and want to see Season 2. 
What the hell, one more Jack Marshak pic, cuz he's worthy: